Personal Trainer/Owner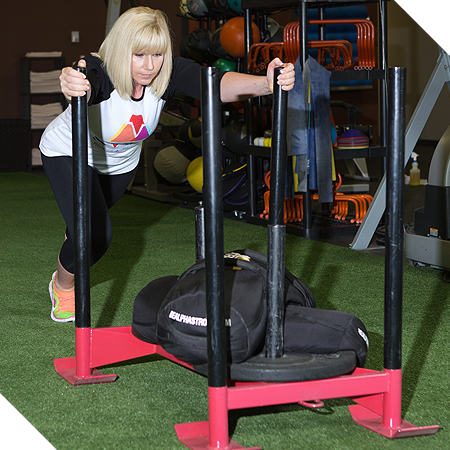 Certifications:
NSCA – CPT
MMA – CSCC
Level 1 NCCP Olympic Weightlifting
KettleBells (KBell Training Academy)
Certified Functional Strength Coach
History:
Shara is the owner of SVPT Fitness + Athletics, and bodybuilding was the stepping-stone to her career as a personal trainer and strength and conditioning coach. After her own struggle with weight growing up and into her 20s, bodybuilding lead to a lifestyle that centered around better nutrition and daily exercise. Shara left bodybuilding behind in 2006, and began focusing on more of a truly well rounded and athletic lifestyle. She leads a very active lifestyle that is centered on athletic performance and using varying training protocols and tools. Pursuits beyond bodybuilding towards better mental, spiritual and physical health and wellness consequently lead to her passion: helping others learn to feel good about themselves, improve health, and teach athletes how to take sports performance to another level. Specifically, Shara has been working closely with the St. Albert rugby team on sport performance and player personalized training.
Shara mentored under Scott Abel from 2006 to 2012 and also spent a month at Adrenaline Performance Center in Montreal under Jonathan Chaimberg in 2012. Other mentorships include MBSC-Mike Boyle Strength and Conditioning in Boston (2013) and Loren Landow at Steadman Hawkins Sports Performance in Denver (2014/15).
Trainee Type:
Shara enjoys working with ALL fitness levels and types – from weight loss to sport specific, including MMA fighters and hockey players.
Training Philosophy:
Everything is relative; there are no absolutes. There is more than one way to get fit, healthy, strong, lean, flexible, mobile – it always depends on the client. Learn from the greats because success leaves clues. I have studied with the best in the fitness/sports performance industry, and they have taught me use what works – to look into my toolbox and choose what is right for my client or athlete at that time.
Favourite Exercise:
Heavy Sled Push, or anything to do with the sled is my favourite exercise. Nothing is more empowering than moving (or lifting) something extremely heavy. It makes you feel… invincible, and like you might just need to invest in a cape.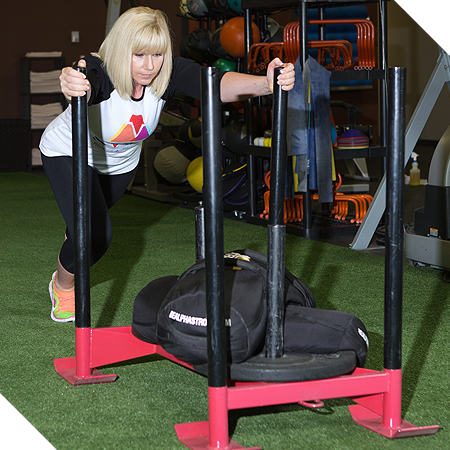 Testimonials:
I began training with Shara in 2011 when I was in a serious lull in my boxing career. With Shara's guidance and confidence in me as an athlete, we have been able to resurrect my career and push me to another level as a boxer to help me compete at a world championship level. SVPT Fitness + Athletics is not only a fabulous training facility but has become like a second home to me while I am training. Shara has not only become a cherished part of my team, but also a friend in the process. Thank you for putting up with me 🙂
– Jelena Mrdjenovich, Professional Boxer, 7 Time World Champion, 35-10-1
---
Shara Vigeant has not only given me the building blocks to become a better athlete and a world class fighter but has personally overseen and transformed me into the athlete I am today. I owe a lot to Shara and recommend her to anyone I can.
– Mitch " Danger Zone " Clarke (11-3), UFC Fighter
---
Playing hockey for the past 12 years, I've been involved with many different teams, coaches, and mentors. It wasn't until I started training at SVPT Fitness + Athletics that I began to see significant all-around results. In the past, training specifically for hockey, I would over work and over use certain muscle groups. Since then, Shara has given me a program that has pushed me out of my comfort zone and increased my overall strength as an athlete. Thanks to her I am less prone to injury and have bettered my performance as an all-around athlete. More importantly, she has given me a confidence that not only helps me as a player on the ice, but more significantly, has helped shape who I am as a person.
– Jennifer Moe
#9 Right Wing for the Edmonton Junior A Wolves
Junior Western Woman's Showcase 2015 Champions
2015 AJFHL League Championship
2014/2015 AJFHL Player Award (League MVP)
2014 AJFHL League Championship
2014 North All-Star Team
2013/2014 AJFHL Player Award
2013 North All-Star Team
2012/2013 AJFHL Player Award (League MVP)