Personal Trainer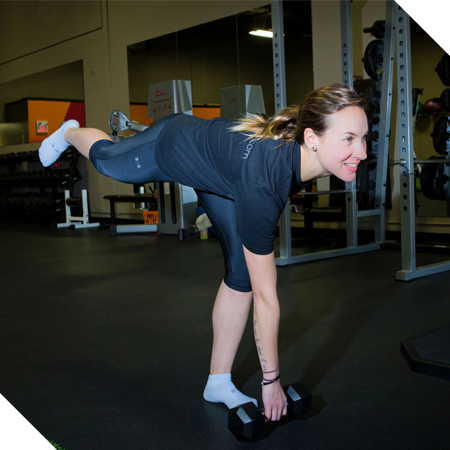 Certifications:
CSEP-CPT (Canadian Society of Exercise Physiology – Certified Personal Trainer)
NASM-CES (National Academy of Sports Medicine – Corrective Exercise Specialist
Personal Fitness Trainer Diploma from Northern Alberta Institute of Technology (NAIT)
Standard First Aid
CPR Level C-AED through Lifesaving Society
FRCms (Functional Range Conditioning Mobility Specialist)
History:
Kristen has been active her entire life, but didn't really find her calling until halfway through her Bachelor's degree when she joined the cross country running team at Concordia University of Edmonton. After competing for NAIT while completing a diploma, she returned to Concordia as Assistant Coach for the Cross Country Running and Indoor Track teams. She continues to run competitively, while also playing on a women's ball hockey team, and doing all the yoga her schedule will allow.
Trainee Type:
I love working with any individual that has a desire to do or be better. Whether you are looking to improve athletic performance, regain mobility, or simply take some steps to combat sitting from 9-5, I believe that I can guide any committed individual beyond their goals. Commitment and consistency will get you almost anywhere; if you're in, I'm in 110%.
Training Philosophy:
I believe that everyone has the right to move freely and without pain. I also believe that a huge problem we are having in the age of the Internet is confusion. There is confusion about nutrition, confusion about what is the "best" type of training, and confusion about what is "healthy" and "normal." I want to help my clients navigate their way through the information to become more confident in their knowledge of health and fitness. I want to educate my clients and promote autonomy, so that they are confident when they have to go it alone.
Favourite Exercise:
My favourite exercise is the single leg deadlift. There are so many ways to do this exercise, meaning that seasoned exercisers as well as new gym-goers can benefit. Not only do you get the benefit of a deadlift through the posterior chain, the move is also a great anti-rotational core exercise. In addition to this, in most variations, balance is challenged as well, which is something we should all continue to work on no matter how old we are.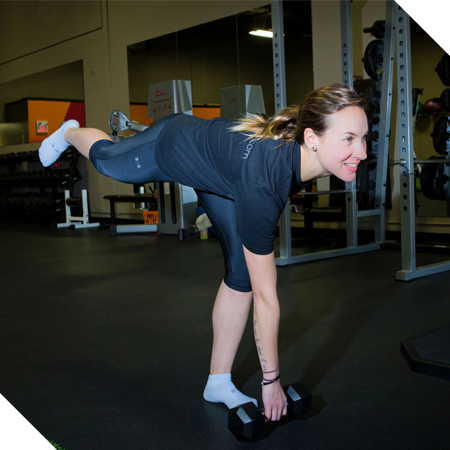 Testimonial:
"I started training with Kristen in October 2015. My initial goal for personal training focused almost exclusively on weight loss, as my weight had ballooned despite working out three or more times per week. Kristen quickly identified my strengths and weaknesses, and introduced a series of routines to break me out of my physical rut. While I initially set out to train with a personal trainer for only 6 months, I have continued for 2 years because Kristen takes me out of my comfort zone each week to make gains that I would never accomplish on my own. Kristen's personal passion for physical health and well being is infectious and I particularly appreciate her balanced opinions about emerging fads in diet and exercise. Overall, she is an excellent trainer."
– Tina O.