Personal Trainer
Certifications:
University of Alberta, BPE (sport performance focus)
Certified Strength and Conditioning Specialist through the NSCA
FRCms (Functional Range Conditioning Mobility Specialist)
History:
Despite never being the most talented kid on the team while growing up, Erica has loved sports all her life and competed in basketball and volleyball until the age of 18. Her experiences as a decidedly average athlete led her to pursue an education that would allow her to stay connected to the world of sport, and she discovered a passion for the fascinating field of strength and conditioning. Eager to seek out learning opportunities, she worked in the University's high performance training center and completed an internship at Peak Power Sport Development in Calgary.
Trainee Type:
Erica loves working with people from all walks of life, and nothing thrills her more than seeing determined individuals reap the rewards of their hard work. She believes that everyone (including herself!) can benefit from getting stronger and training for improved performance, and she strives to make an active lifestyle attainable and enjoyable for all.
Training Philosophy:
My philosophy is that everyone is an athlete. Our bodies are designed to move and perform, and everyone can benefit from training for improved strength, power, coordination, and endurance. No matter who you are or where you're starting from, you can discover, rediscover, or enhance the athlete within through training that is specifically scaled and tailored to you. Whether you take part in competitive sport or just want to get leaner, fitter, and healthier, there is athletic potential inside you just waiting to be unlocked!
Favourite Exercise:
My favourite exercise is the deadlift. Whether it's conventional-style, sumo-style, or with the trap bar, if it's heavy and I can pick it up off the ground, I love it! There's just something so enjoyable and satisfying about lifting heavy weights, and for me the deadlift captures that feeling better than any other movement out there. I love the deadlift not only for myself, but for almost everyone I train. The exercise is fantastic for developing full-body strength, has great transfer to both athletic performance and life in general, and has endless variations and modifications that make some form of deadlifting possible for any ability level. To top it all off, deadlifts are just plain fun to do!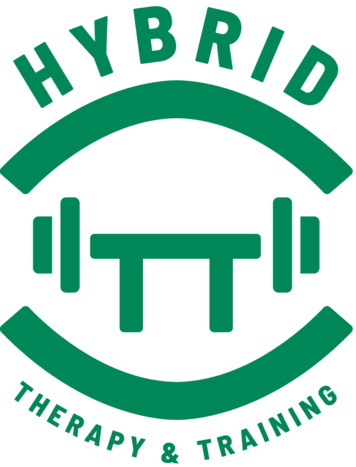 For more information on Kin Stretch, Rehabilitation and Massage by
Hybrid Therapy & Training click here.
Testimonial:
Training at SVPT Fitness + Athletics has been the best investment for a healthily life style I have ever made. Working with personal trainer Erica Saunders has been an amazing experience. She designed a personal program for my fitness level and health issues. It didn't take long before I started to feel improvements in my strength, energy and mobility. Her positive attitude is infectious and made me want to push myself to achieve my goals. Working with Erica has given me balance, strength and confidence. Which in turn, makes me happier and healthier in every aspect of my life. Instead of focusing on limitations and fears, I'm setting new goals and challenging myself to enjoy life. The knowledge and support I've received has proven invaluable. The SVPT Fitness + Athletics facility is a one of a kind experience. It is full of positive energy, encouragement and endless possibilities. Everything you need to make a positive lifestyle change is attainable, with the SVPT Fitness + Athletics family.
– Kari A.